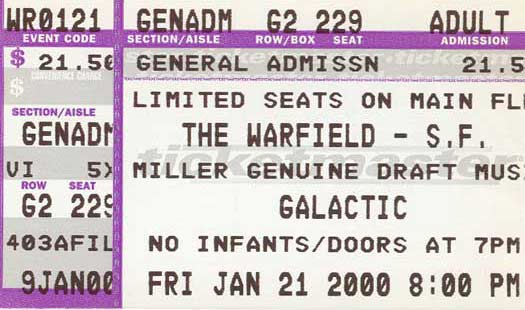 One more time with these freaks -
see gallery
I think we were "over" seeing these guys after this show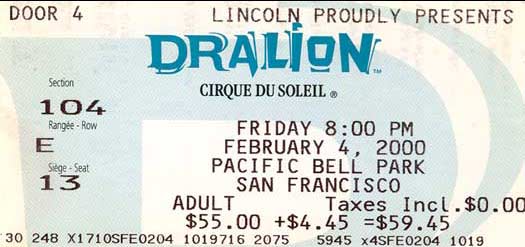 Our first time seeing Cirque-
see gallery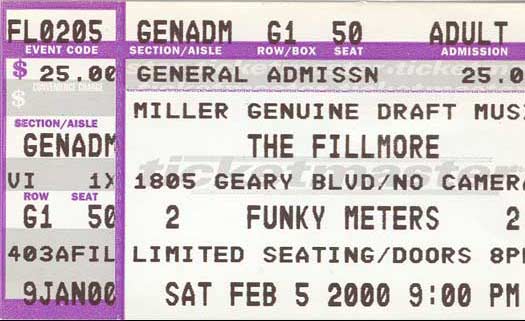 The next night is was time for the
annual Fillmore gigs
with these funksters
Another Merl b-day concert- always fun
Not impressed with this show at all- stopped seeing them after this
Lindley always classic
Loved seeing him for the first time, although the sound sucked
Back to Jazz Fest in New Orleans once more:
Unfortunately this show did not meet the very high expectations
of the first gig with Trey Anastasio, Stewart Copeland, & Les Claypool.
But the opener- Garage a Trois - their second gig ever- was fantastic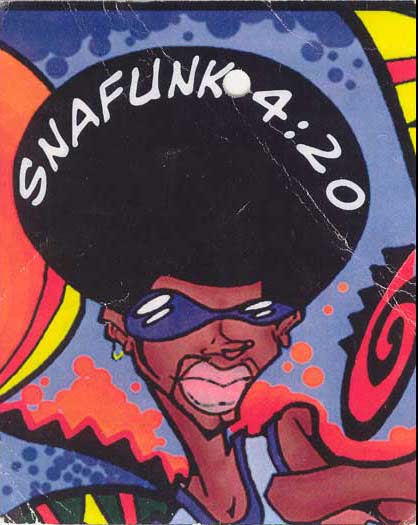 Always my favorite party at Jazz Fest- the 4:20 party (roll-over)
see gallery
Sunrise show at Tip's- mandatory experience at Jazz Fest
Super great show with Karin & Kirsten- in the front balcony- awesome!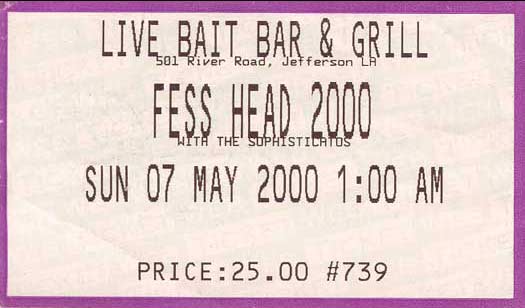 George Porter Jr.'s annual JF bash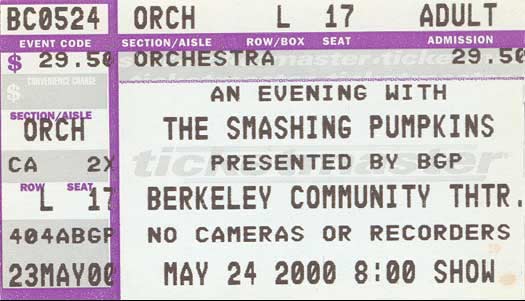 Our last time seeing them before they broke up soon afterwards.
Good call- they sucked - the magic was gone- bummer- end of an era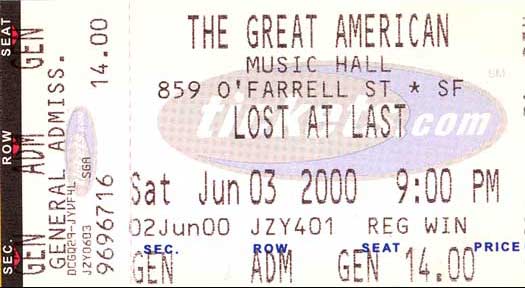 Amazing Burning Man trippy tribal band
Did we like this band much?? (ha-ha)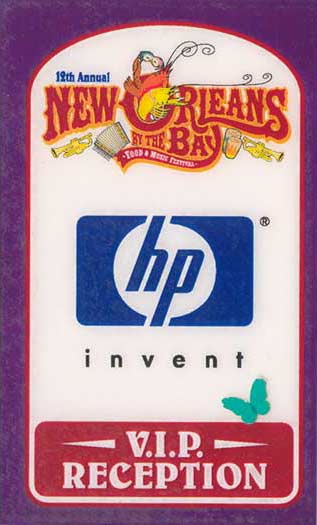 And we didn't get enough NOLA music in NOLA (ha-ha),
so we took a party bus with 39 other freaks down to
Shoreline for an
unforgettable day of music & zaniness
.
Line up : Neville Brothers, BeauSoleil, Wild Magnolias, Rebirth Brass Band,
Kermit Ruffins, Sunpie Barnes, Los Hombres Calientes, & Zigaboo Modeliste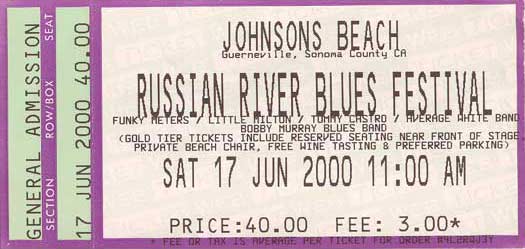 A blast of a weekend with a huge crew of SF freaks
see gallery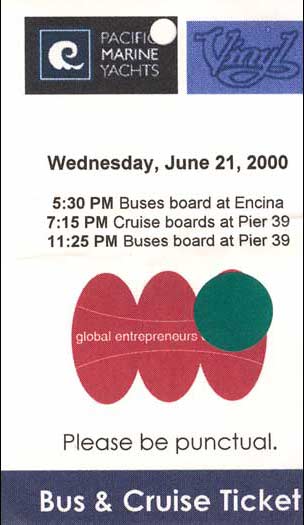 Dr. Ted's "Global Challenge" Boat cruise with Vinyl
see gallery
Awesome show- especially seeing Bob

After seeing Bela Fleck at Stern Grove for free that day,
we headed south to catch our first time seeing the legendary
Pink Floyd bassist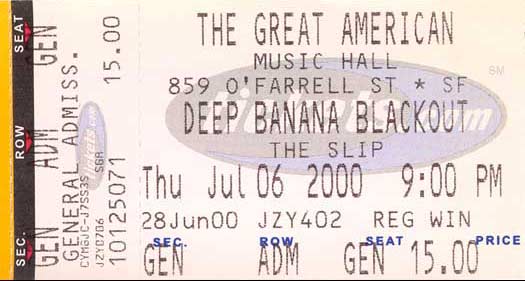 Since we passed on High Sierra this year, we caught this jam band
at our favorite concert venue
Karl opening was the draw here...plus the venue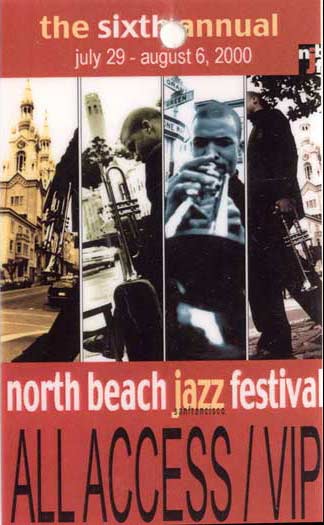 Our friends got us into whatever
show
we wanted- nice!
Not really a "concert" per se, but a concert movie of sorts
(Grateful Dead) and a really cool ticket stub
Interviews with Babatunde Olatunji, Merl Saunders, Wavy Gravy, Bob Weir, Phil Lesh, Mickey Hart, Bill Kreutzmann, and others, illuminate the influence and inspirational force wielded by the almost-mythical Jerry Garcia.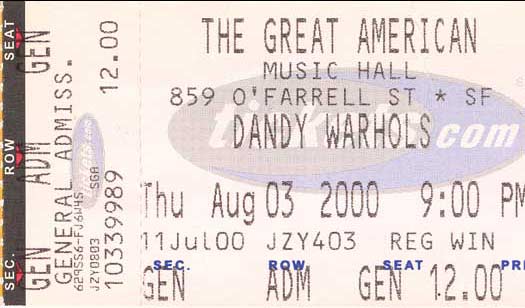 One of our favorite Brit pop bands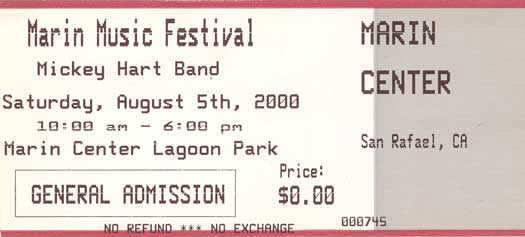 Co-promoter (and dear friend Karin Conn) always got us into
this fun
festival
. This year's musical line-up was one of my personal favorites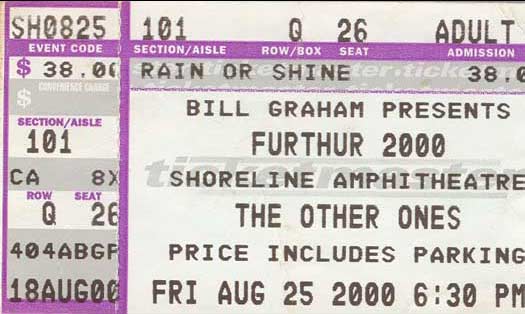 More Dead-related fun in the 100's at Shoreline, but not the epic show of last year
Something you gotta experience at least once-and for us 3 times
genuinely unique - not just another "festival"
see gallery
No Perry Ferrel spinning this year, but always interesting films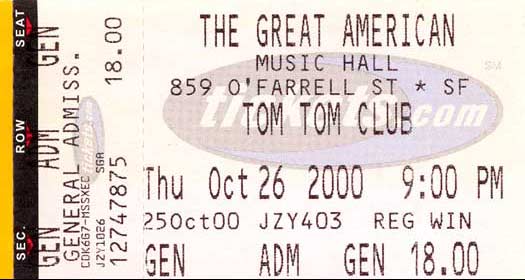 Dark Sneak Love Action indeed- Talking Heads sans David
We were so into seeing shows we took a chance on almost anything
SUPER fun after-party
to the only Original Meters Reunion show
No ticket stub to the show, since we were ushering to see it for free!
Papa Grows Funk rocked the house till the wee hours
Great fun singing along to the ABBA tunes we all know (and love??)
Obligatory attendance at this SF institution with Mom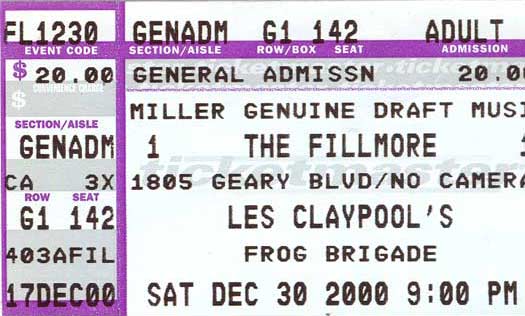 Les' final time interpreting the music of Pink Floyd's Animals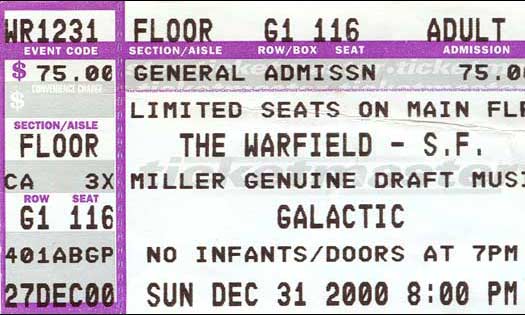 Unforgettable night- just as surprise guest George Clinton gets rolling,
we unexpectedly get t
ransported to the 12th dimension