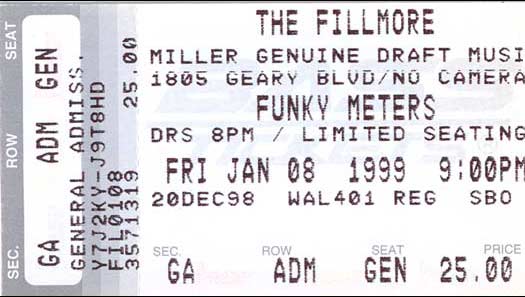 Another two-night run of funk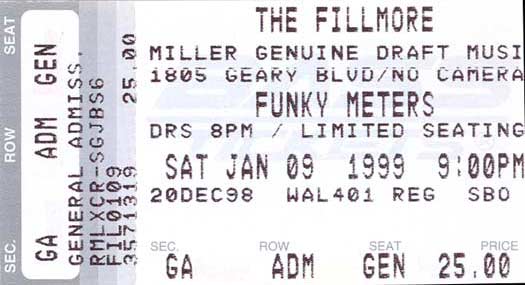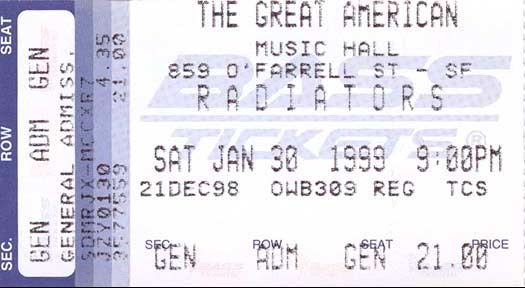 Another night of Fishhead music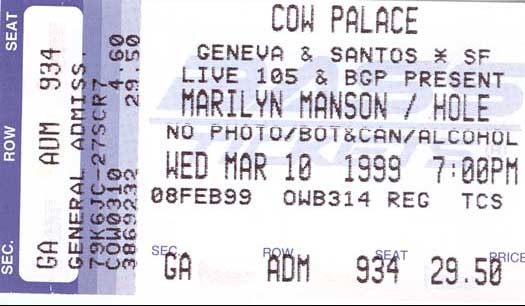 Not really "into" his music per se, but what a theatrical event
So psyched to see another one of my faves
At the Fillmore no less- sweet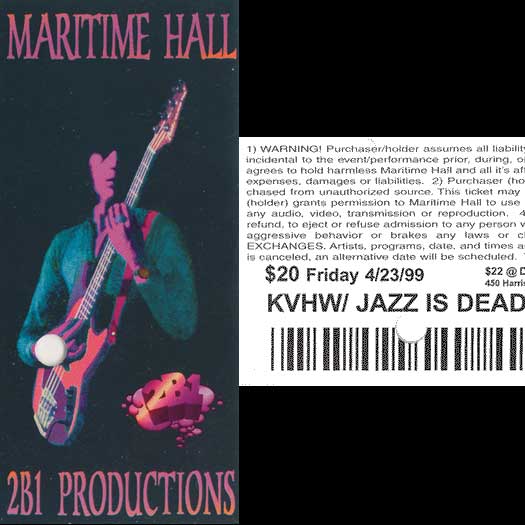 Kimock and friends
The crazy NOLA Jazz Fest begins
We made it to the fairgrounds by 5p.m.
to at least eat the incredible food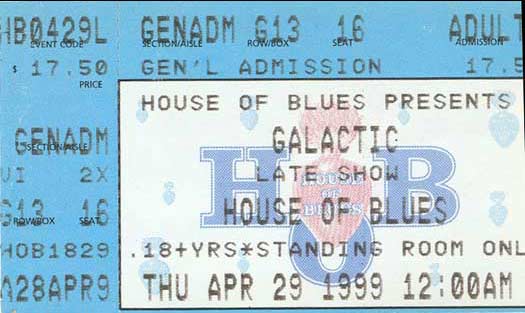 Outstanding late show
Another great sunrise show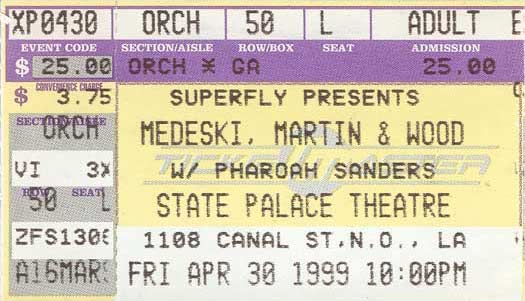 Pharoah was a bit disappointing at this mellow show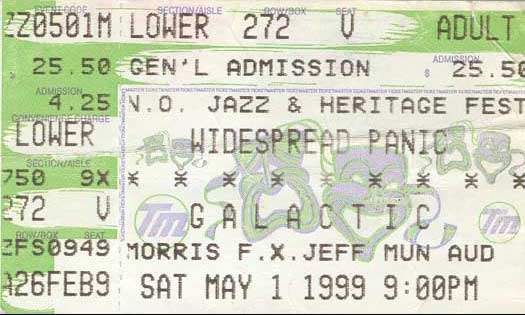 Never intended on seeing them either, but after seeing them for the first time ever jamming hard for 2 smoking sets at the fairgrounds earlier that day,
we went with too high expectations: the first time is always the best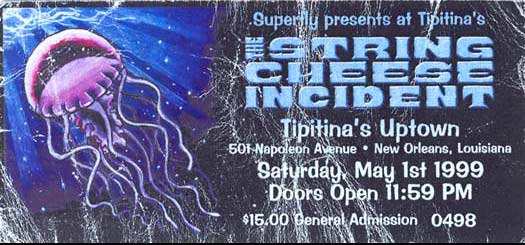 We never even intended to go to this show, but got hooked up with
some Panic freaks at their show who dragged us to this- sans ticket.
Turned out to be one the THE ALL TIME BEST SHOWS EVER- seriously.
Went till 8a.m. when they kicked everybody out and then
the drum circle started- wow- unforgettable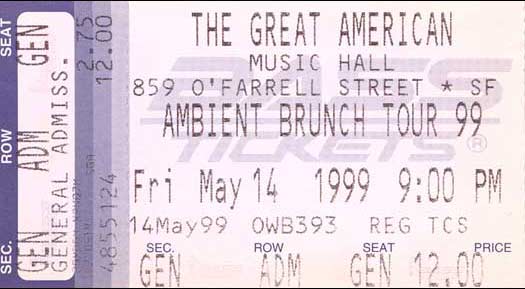 Banco de Gaia, Bossa Cuca Nova,
Dj Cheb i Sabbah with a free brunch during the concert!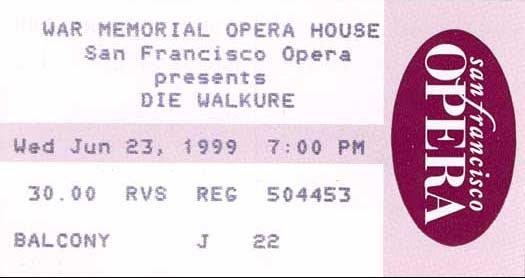 Something possesed me to see the complete 4 opera cycle of Wagner's Ring
We had just returned from Germany the day before and were SO jet-lagged
and it was a super hot SF day, with nosebleed (read 'affordable') seats,
we proceeded to to the head bob through the entire 4 hour production
Crazy & wild fire dancing Burning Man contortionists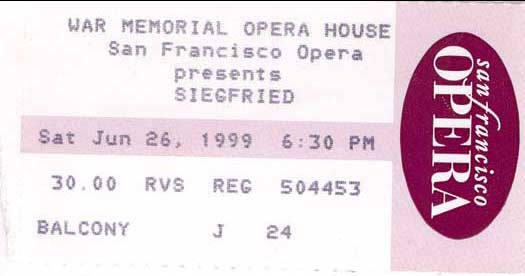 We wised up this time and took some E-nhanment to keep us wide awake
for this 4.5 hour opera ;)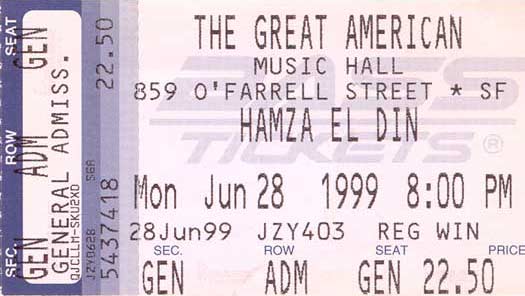 Tabla master himself
The final opera- all 5+ hours of it. Whew- we made it- and I will never see it again!
Post High Sierra (which we bailed on to go backpacking) didgereedoo master
Fun, but as with many of the shows here- oversold and way too hot & crowded
Awesome venue (only show we ever saw there) & great funky fun
Bring on the Cheese!!!...great jam with Phil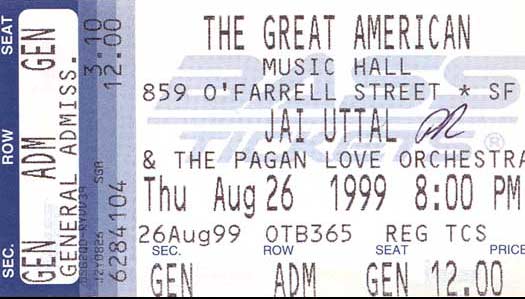 I think he was better this time, but can't really recall
I'm sure I was feeling better than at last year's show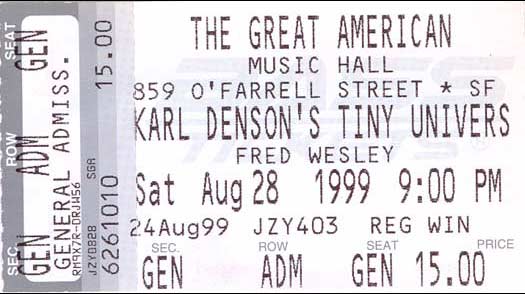 Fred from JB's band with Karl- sweet indeed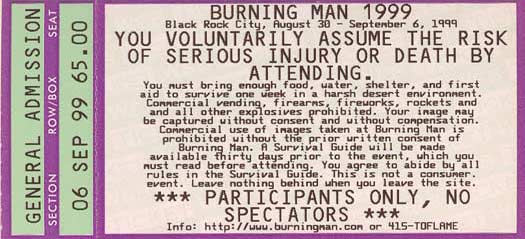 One more time..this time with the Found Funk Family
Cool film fest, but even better after-party with Perry Ferrel (Jane's Addiction)
spinning electronica for a couple more hours in the lobby- nice!
So we had to go back the next night, but alas, no Perry
Butzi's solo trek up to Ashland to visit Kirsten
Serious keyboard jamming with these two titans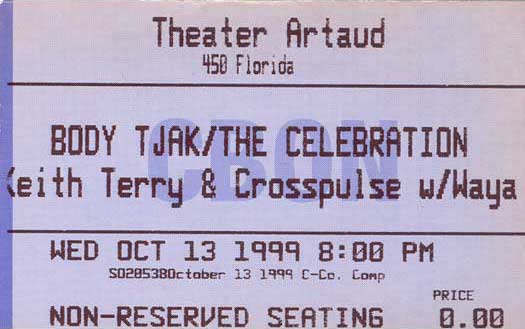 Butzi's German friend Uli was working at the theatre
Funky fun with Maceo (even though he plays mostly the same show)
The Who, Pearl Jam, Sheryl Crow, Green Day, Billy Corgan & James Iha, Tom Waits, Emmylou Harris , Lucinda Williams and Brian Wilson
Wow!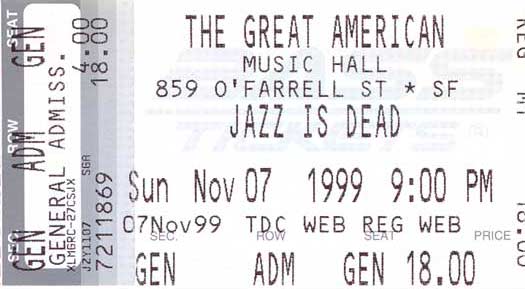 The group consists of T Lavitz, Jimmy Herring, Alphonso Johnson,
Rod Morgenstern & Jeff Sipe, alumnus all of the Leftover Salmon,
Dixie Dregs, Gov't Mule & Widespread Panic scene.
As you may glean from the name, Jazz Is Dead interpret The Grateful Dead's music in a jazzy vein, eschewing vocals for guitar-keyboard-bass-drum-percussion jams. They fit somewhere betwen the all-out funk-fest of T.J. Kirk's interpretation of Monk, Rahsaan & James Brown, and the Ed Palermo Big Band's treatment of Frank Zappa.
Underworld disappointed, but the Bros "worked it out"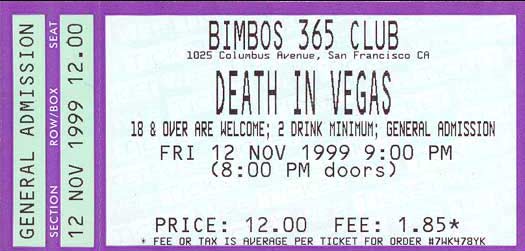 Very varied electronica
a classic Marin band in a great venue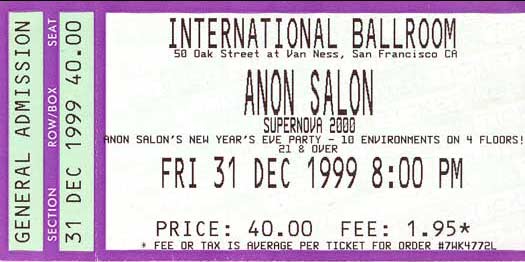 With Butzi's brothers & girlfriends/wives in town for the millenium.
Crazy fun at this wild event- awesome costumes and great after-party
at the original Anon Salon space on 9th & Howard- this was
supposedly the final party held their.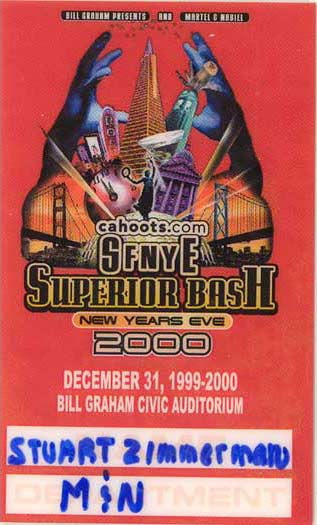 But we couldn't just see one show on New Years Eve, so being that
our dear friend Karin got us in free ($100 ticket)...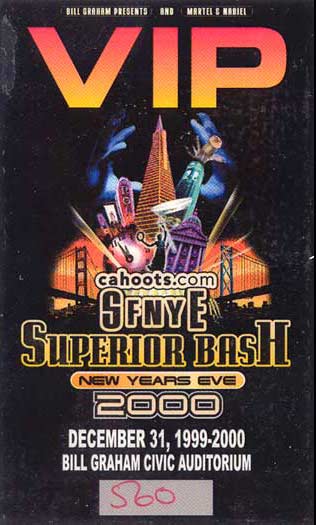 We walked over from teh Anon party and saw the Crystal Method- and then
it was off to the Anon after-party.Whew- Those were the days!