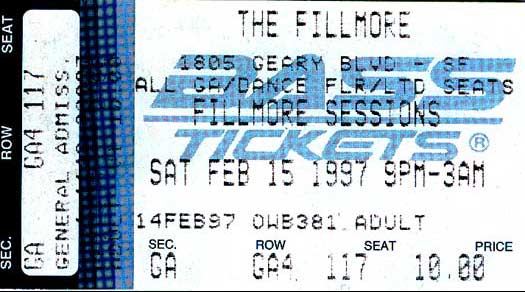 One of the few raves the Fillmore has ever had..and one that I
refused to miss - even though that meant going solo- since all
my friends at the time were not "into electronic music"
Met Butzi at the apples...she went with some random dude she
picked up in Union Square that day just to go to this show
Lots of bands and liquor :)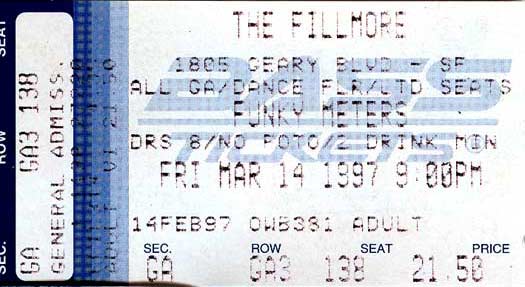 For all intents & purposes..my birthday show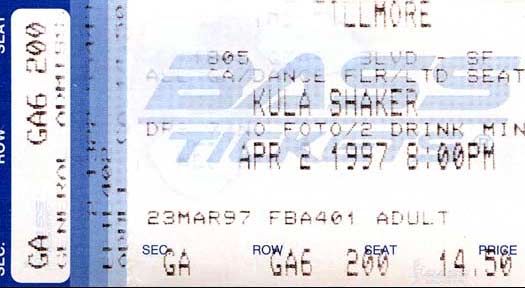 Band o' the Moment with Butzi (whatever)
The Reverend rocked!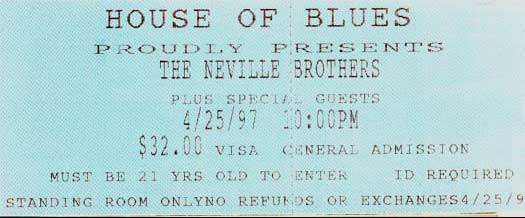 In New Orleans at Jazz Fest- great show, but lame crowd -
bunch of posers who didn't want to dance and resented the fact that we were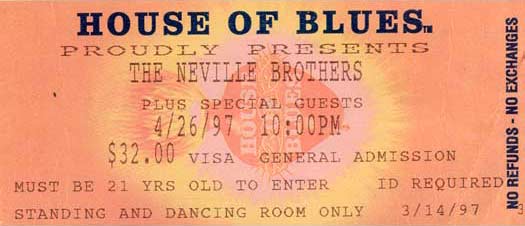 But we had already bought advance tix to both shows (ugh!)
But the opener- Galactic- rocked!
AWESOME show and crowd (redeemer!)
Great show except we missed most of The Orb due to Lexi screw-up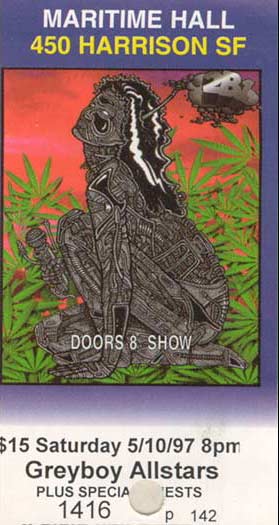 These guys jammed!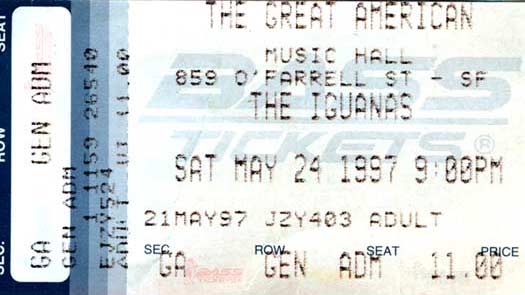 Not much recollection of this show
Super hot SF day and we had another show in the park we were at all day
Exhausting, but worth it- Mickey is amazing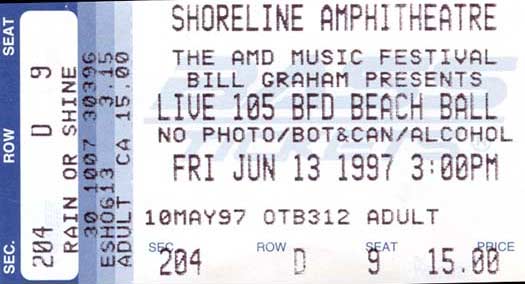 The Cure, Toad the Wet Sproket, amongst others
AWESOME show- on the field pretty close- Wow!
After seeing them at High Sierra Late Night 3 months prior, we had to go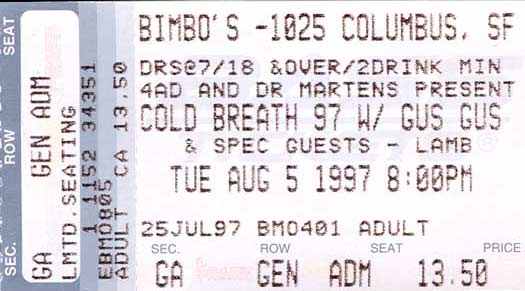 New electro-groove band Gus Gus was fairly interesting,
but it was the funky groovey crowd that was the main attarction
FINALLY I get to see her live...unforgettable
I think this was the first time seeing them in SF
Rusted Root was awesome and for the umteenth time, Carlos rocked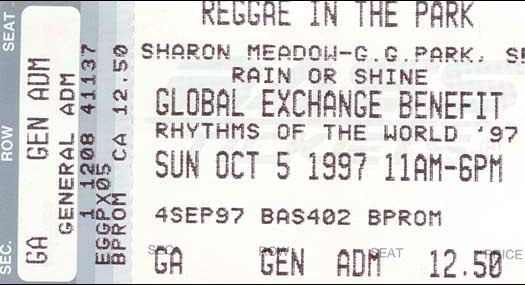 Featuring Maxi Priest, Third World, Judy Mowat, & Capleton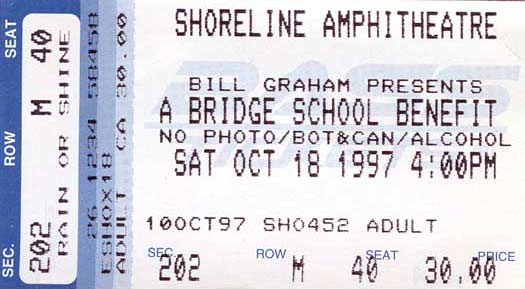 Metallica, Lou Reed, Smashing Pumpkins (with guests Marilyn Manson & Twiggy Ramirez), Alanis Morrisette, Dave Mathews Band, Blues Traveler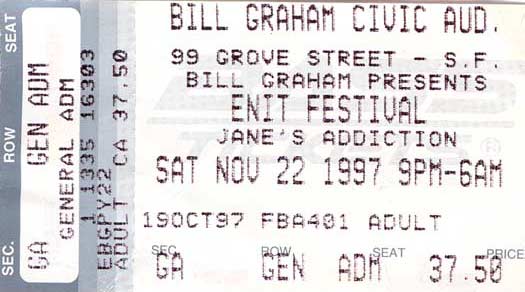 A truly EPIC concert experience with the hall decked out to the nines
and all of these side themed rooms featuring Jane's Addiction,
Goldie, Ken Kesey and the Merry Pranksters, Funky Techno Tribe
Read a more in-depth review of this one-of-a-kind event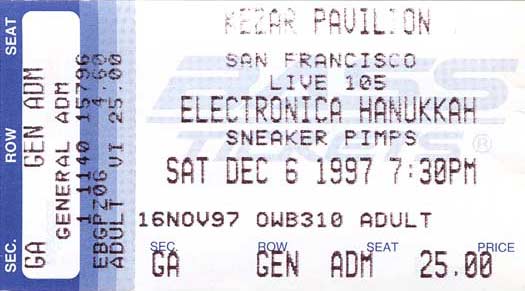 Sneaker Pimps were lackluster, as we had such high hopes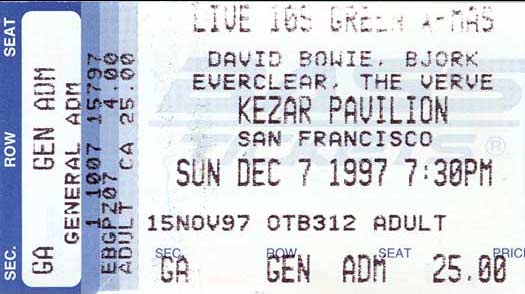 Bjork & Everclear bailed out, so only Bowie, who was short, but sweet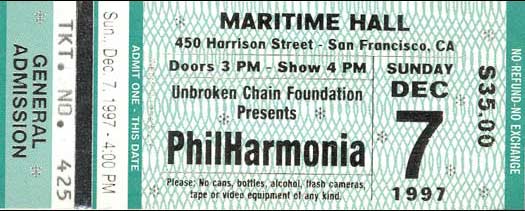 "PhilHarmonia," is a continuation of an ancient tradition -- that of family and friends gathering together during the holiday season to raise their voices in sweet harmony.
Featuring
Graham Nash, Bruce Hornsby, Edie Brickell, Donna Jean,
Jackie LaBranch, Michael Tilson-Thomas,
David Grisman, Bob Weir, Mickey Hart, and Phil Lesh
Read more detail here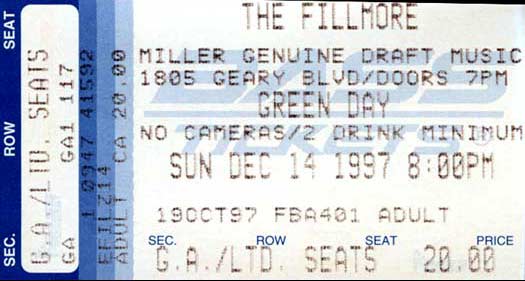 Fun stuff for the final show of the year for us