New Years in New Orleans
From Houston we took a nice detour to New Orleans, where we haven't been in 5 years or so, and couldn't wait to meet with the Rapoport family and visit some old friends. We rented a beautiful apartment in the garden district, and stayed there through New Years. We were lucky to get a babysitter for 3 nights, and got to eat at Bayona, Upperline (my favorite) and Dante's kitchen, and afterwards to the Maple Leaf - what a treat!
The travel day home was a little exhausting, 6 hours back to Houston, and then 4 hour on the plane back home. Lily did ok, she didn't get a good nap in, and was tired and cranky on the plane, but we managed to entertain her well enough - but after 14 hours of travelling we were all glad when we got home at 9:30 PM.

Lily and Skylar became best buddies, and played dress up every morning, and created play-dough figures, and Skylar introduced Lily to all the old Disney princess movie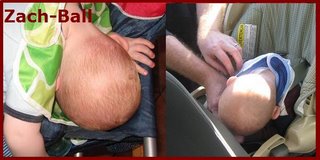 Little Zachary was famous for his sleeping pasture :)
Lily was so in love with the little baby, and couldn't stop kissing and petting him, too cute!